Foam Bladder Tanks
January 19, 1989

Posted by:

Amr Sohil

Category: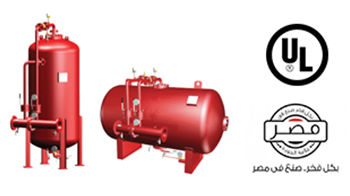 EGY-CHBT/CVBT
(25 – 4500) Gallons
The ISS Bladder Tank is one component in a balanced pressure foam proportioning system. It requires no external power, other than the water pressure to ensure correct operation. The bladder tanks are designed and constructed in accordance with the latest revisions of european community`s pressure equipment direction (PED) and carry the CE marking with a working pressure of 175 psi (12 bar) and tested to 228 psi (15.7 bar) pressure.
SPECIFICATIONS
The tank shell is constructed of Carbon steel, The circumferential, as well as the longitudinal body seam, are machine welded. The tank interior welds and edges are ground smooth.
The tank shell water inlet and tank shell water drain is screened to prevent bladder blow out or the entrapment of debris between the tank shell and the bladder.
The horizontal tank assembly is supported on two saddles welded to the tankand fitted with anchoring holes allowing easy access to the bladder drain/fill valve and the tank shell drain/fill valve.