Sprinkler System & Valves
January 13, 1989

Posted by:

Amr Sohil

Category: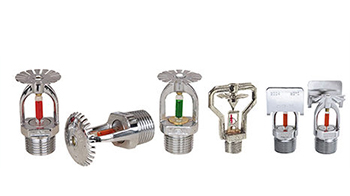 Sprinkler and Valves systems
ISS installs fire sprinklers and fire sprinkler systems for residence, commercial, and industrial needs providing experienced fire sprinkler service. A common misconception about fire sprinkler system installation is one fire sprinkler activates all fire sprinklers in a home, an office, or a space from heat reaction.
Fire sprinkler engineering today ensures a sprinkler reacts to temperature changes in rooms individually. A fire in an office will activate only the sprinkler(s) installed in the particular room. This saves property from extensive fire damage, isolates a fire, and limits the fire's opportunity to spread.
Tyco is a leading manufacturer of water-based fire suppression system components and ancillary building construction products.Tyco's Fire Suppression solutions advance safety and security by finding smarter ways to save lives, improve businesses and protect people where they live and work.
For more information about Tyco,please visit their website: http://www.tyco-fire.com
Since 1857, the Mueller name has been known for innovative Water Distribution Products of superior quality. We are North America's largest and only full-line supplier of potable Water Distribution Products. Our products are used throughout the water system from source to customer.
For more information about Mueller,please visit their website: http://www.muellercompany.com
The story of OCV Control Valves began more than 50 years ago,the company designs hydraulically-operated, diaphragm-actuated, automatic control valves. OCV's high quality control valves can be found throughout the world – whether it's a municipal water system in the US, an oil refinery in Russia or an irrigation system in Europe.
For more information about OCV,please visit their website: http://www.controlvalves.com